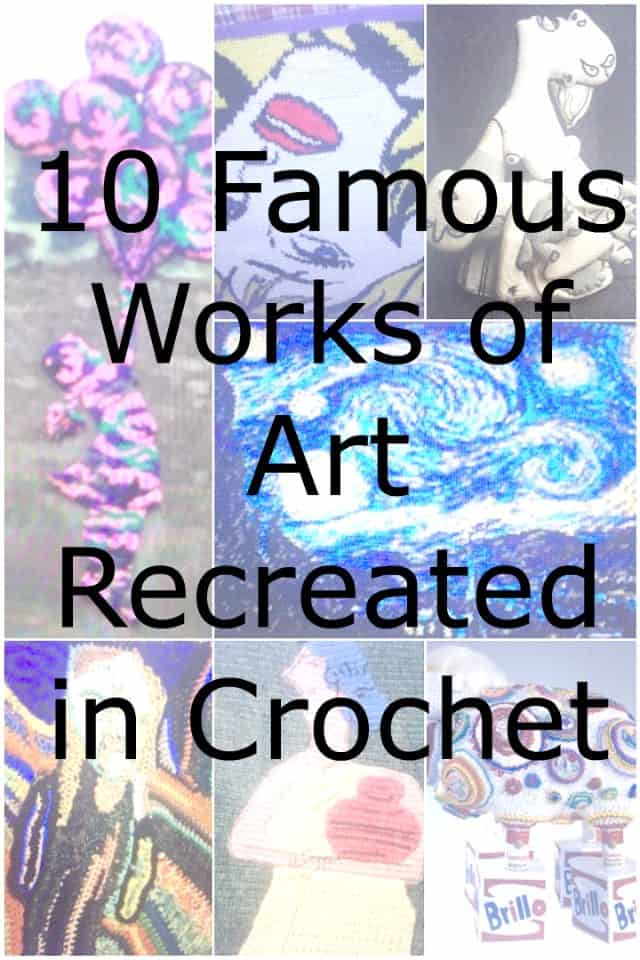 Although some people still like to argue whether "craft" is "art" (and, if not, then what distinguishes one from the other), you simply can't deny that these creations are art. Yarnbombers and crochet artists have been inspired by famous works of art from geniuses like Picasso, recreating them using sculpture, tapestry and freeform crochet.
1. Guernica by Picasso
Knithacker recently shared a roundup of the progress that Italian yarnbombers Sul filo dell'arte have accomplished in their recreation of Picasso's Guernica. Picasso painted this work in 1937 in reaction to the devastation of the bombing of Guernica. It is arguably his most famous painting, powerful because of the tragedy expressed in the images of war, a power enhanced by the absence of color in this black and white piece. The yarn bombers have used 3d techniques to create sculptural crochet representations of portions of the painting, staying true to the black-and-white color of the original. It appears that surface crochet is used to add in the thick detailed lines for facial features and other details, which are especially important in a piece like this that displays such emotion.
2. Soup Cans and Brillo Pads by Andy Warhol
Leslie Blackmon did a series of 20 fiber art sheep titled Baa-America! Icons Revisited. The icons represented came from a variety of backgrounds – as diverse as Martha Stewart and Bob Dylan. Several of the inspirations were, of course, visual artists. Her representation of Andy Warhol is an abstraction of several of his works including his very famous Campbell's Soup Cans and Brillo Boxes, both pieces which themselves question "what is art?"
3. Flying Balloons Girl by Banksy
Crochet artist Olek paid tribute to famous graffiti artist Banksy with her own yarn bombed representation of his Flying Balloon Girl. Banksy is a graffiti artist who painted this piece on the West Bank in Israel. It seems appropriate that it was recreated in yarnbombing, a fiber version of street art and more so by Olek who has worked around the world, including raising awareness about refugee issues with her art.
4. Painting by Quamrul Hassan
Quamrul Hassan was a Bengali artist known for adding modern touches to traditional folk art. He often painted the stories of rural woman and their plight in the world, a unique topic inspired in part by his mother and wife. Samantha Morshed of Pebble Knits Dhaka was inspired by his work to create this crochet painting, about which she says, "I love the way it's 2D and yet when you're up close to it, it has a lovely 3D quality as well with folds in the fabric of the dress." She doesn't indicate whether this was inspired by a specific painting or his general body of work.
5. Women by Klimt
The International Freeform Crochet Guild used to run an annual challenge to create freeform crochet art based around a theme. In 2012 the theme was "music and art", offering crocheters the chance to take inspiration from their favorite artists. Stefanie Spikell was inspired by several of Gustav Klimt's portraits of women, particularly The Kiss and Portrait of Adele Bloch-Bauer. Her piece, mounted on a painted 36″ square canvas and hanging above her own fireplace, is called The Secret Lady. She shares, "The art piece is all crocheted using more than 30 colors and several different stitches/textures and hook sizes." Visit Stefanie on Etsy to see more of her art.
6. Olympia by Manet / Venus of Urbino by Titian
Ellen Scott used crochet to complete her final year degree project at the University of Central Lancashire. She recreated Manet's Olympia as well as Titian's Venus of Urbino. John Edwards writes, "Inspired by Craftivism, which uses crafts for political means, the 21-year-old chose a piece with feminist aspects. Crochet is traditionally a female past time and Ellen wanted to replicate paintings which depict women in a contrasting manner; Venus of Urbino, showing a goddess of live and symbol of fidelity, while Olympia portrays the independent and overtly sexual nature of a prostitute." Abby Kearney adds, "The nudes are pixelated with blocks of reds and blues, which frustrates voyeurs, unless they observe the pieces with a specific squint and from a specific stance."
7. Starry Night by Van Gogh
Van Gogh's Starry Night has inspired so many different artists over time. The color palette has inspired several crochet patterns including a baby blanket and a cardigan. Lee Mac is a crochet portrait artist who recreated the entire Starry Night painting in crochet. She shares that she was inspired to create the piece after she started reading Van Gogh: The Life and that she found it really soothing to work with the colors in this palette.
8. Girl with Hair Ribbon by Lichtenstein
Gwen's Good Stuff (formerly rainbowpixie19 on Etsy) has created many beautiful crochet blankets and wall hangings including those inspired by pop art. This piece is a crochet version of Lichtenstein's Girl with Hair Ribbon, a 1965 work that is one of his most famous images.
9. The Scream by Munch
This particular work of art was so inspiring that two different artists contributed works to the 2012 Freeform Challenge based upon it. The crochet wall hanging above is an interpretation by Loren Gaggini who wrote a short poem to go with the piece. Denise Royal was inspired to create a crochet art chair:
10. Color Study by Kandinsky
I haven't been able to find confirmation that this yarn art recreation is made in crochet but it looks to be. The piece is a collaborative effort by Val McGregor, Wendy Shepherd and Helen Cooper made using recycled materials including VHS tape and bags as well as yarn donated by others. It is one of twenty works of yarn art created by a group called The Materialistics for an exhibit called A Grand Tour; each of the pieces is inspired by a major work of art. Most are created in knitting although crochet is incorporated into several of them and appears to possibly be the main medium for this Kandinsky recreation. It appears to be a recreation of a small, well-known drawing from 1913 called Color Study. Squares with Concentric Circles.